Christmas-Presents.net
Another opportunity with Christmas shoppers, from a commercial viewpoint this was to be part of a Christmas gift , xmas-gifts shopping portal, but as usual my eyes were bigger than my belly in 2000 When I bought Christmas-shopping.org to do just what it says on the box.

Too many projects again, leave some on the shelf. Hopefully not with your new christmas-presents.net , and how ever you choose to implement that.
I had thought that your gifts would be delivered, ready wrapped to be put under the tree, either yours or the recipient of your Christmas gift, so if you had family or friends in another country you could still treat them as if they had come to you for Christmas..
Easy life.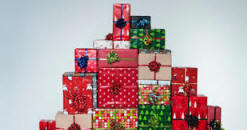 They used to wrap any thing you bought around Christmas here, but that was long ago now, when service was still a gift you treasured.