Sailboats-for-sale.com
In Europe we call them sailing yachts, but in the US and US language domains, they are known as sailboats.
Sailboats-for-sale.com is currently being utilized to point at a European based sailboat selling website at Yacht-sale.com
We like boats
Ours is currently on the hard waiting for a big wave.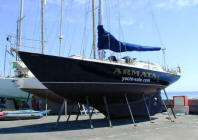 Click to enlarge
She needs a new gel coat as she has been stripped by a competent joker. If you love classic boats and have expertise in this area and wish to have an extended free holiday in a warm Mediterranean country doing a bit of boat work, let us know.